Peacemist: Nicer Post

title card
Format:
Science Fiction, Drama
Created by:
David P. Russell
Country of Origin:
United Kingdom
Starring:
Jamie Bamber
Original channel:
BTV, RATZ Entertainment
Original language(s):
English
No. of series:
4
No. of episodes:
41
Original run:
2005-2010

Talk Page
A spin-off series, Peacemist: Nicer Post, began airing in 2005. It stars Captain James Haggard and is significantly more family friendly than the current Inspector Spacetime.
Jokingly pitched by the producer as "All Bug-Eyed Creatures Great and Small", the show chronicles the misadventures of Captain James Haggard trying to fit in with the quaint, bucolic Welsh hamlet of Wylf-y-Fwddoch while conducting paranormal investigations on behalf of the Peacemist Institute. In the premiere episode, Captain Haggard remarks upon his arrival that the organisation has sent him to a "nicer post" than his previous one (i.e. bombed-out postwar Vienna in "The Cambiare Machine").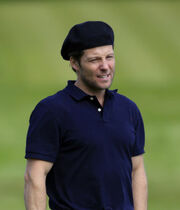 Wylf-y-Fwyddoch, population 109, is home to at least eight different dimensional rips, five buried alien spaceships, a meteor capable of reanimating the dead, and a very suspicious flock of telepathic sheep. (Also, it's a fair bit cheaper to film in the Welsh countryside than in London.)  The local villagers are rather phlegmatic about their quaint community's known oddities but highly suspicious of the Peacemist Institute's inquiries into possible new ones.
As the tone of Peacemist: Nicer Post  is much less dark than Inspector Spacetime, Haggard typically concludes his investigations by inviting the Monster of the Week over for a pint of ale, shepherd's pie, and a folk song. The villagers of Wylf-y-Fwddoch have in different episodes likened the Institute to a nunnery, due to the lack of sexual interaction amongst the Peacemist staffers
A Peacemist spinoff series entitled Peacemist: Bank Holiday, also featuring Captain James Haggard, aired on the cable film network RATZ. This was the fourth series to spin off of Inspector Spacetime, if you count the short-lived one about the Inspector's robot cat. David P. Russell has written most of the episodes for both programmes so far. From the RATZ description of Peacemist: Bank Holiday: "One day, nobody works. All across the world, nobody works. And then the next day, and the next, and the next, people keep relaxing... but they never work".
Community content is available under
CC-BY-SA
unless otherwise noted.