London


Also known as:
Lud's Town, Londinium, Neo-London
Type:
City
Location:
Earth
Native Species:
Humans
First Appearance/Mention:
A Timeless Man

Talk Page

London is undoubtedly the Inspector's favourite city on Earth, not least because it attracts so many aliens. As the Third Inspector says, "When one is tired of London, one is tired of the universe!"
Appearances in the Inspector's Adventures
[
]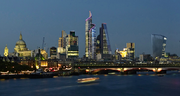 The Inspector's adventures officially began here in "A Timeless Man", and each of his incarnations has visited at least once. There is even a fan theory that the BOOTH took the form of a telephone box because that was the best camouflage for its most frequent destination.
Many of the Inspector's associates come from the metropolis, including Irma Rong, Bart Gilbert, Regina Ayrefield, and Mary Sue Brown from the classic series, and Lily Taylor, Minnie Smythe, and Joanna Martin from the revived one. Others, such as the Eocene doctor Ravaas and his Rostraan gardener, Stalx, have settled there, despite being from other planets or time periods.
The Fourth Inspector was temporarily relocated here for a period during the late 20th century (Seasons 12-14) after the Infinity Knight High Command assigned him as an adviser to the newly founded at the end of "Return to the Sphere of Strands".
Government and Administration
[
]
As the capital city of England and of the United Kingdom, London was both the seat of government, in Westminster, and home to the monarch, whose official residence was Buckingham Palace. Such various organisations as the Extraterrestrial Overwatch Police, the Peacemist Institute, Section 5, and the Criminal Investigation Department protected the city against extraterrestrial invasions and break-ins.
Over the course of the 21st century, the city absorbed the whole of southern England into Neo-London. By the 3rd millennium CE, this would be the capital of the Terran Federation.
Filming Locations
[
]
During the classic series, BTV's producers would take advantage of the region's architectural variety (and dilapidation) to supply scenery for stories set in the future and/or dystopias, e.g. the disused Battersea Power Station in "Recollection of the Blorgons"; the pre-redevelopment Isle of Dogs for the gangland Terra Omega in "The Melancholy Mafia"; and Brunel University's Brutalist campus buildings in "The Rostraan Scientific Method".
The new series instead regularly showcases the city's very latest buildings to present a shiny, happy future, including the Millennium Dome, the Shard, and, of course, "The Gherkin".
Trivia
[
]
In "Exodus of the Blorgons", the Inspector successfully detects the space-time rifts that his nemeses are using to relocate to London by installing special surveillance cameras across the city. Forty years later, there are an estimated half a million CCTV cameras within its boundaries.
In "Fry and Laurie", the entire city of London is transported to the

Moon

[1], all except for one hospital, the Great Ormond Street Hospital for Sick Children (a.k.a. GOSH).
---
↑

Shot on location 45 miles to the northwest in Shire Lane Quarry, Buckinghamshire.