Lily Taylor


Vital statistics
Planet of Origin:
Earth
Original era:
21st Century
Species
Human
Gender
Female
First Appearance:
Lily
Last Appearance:
The Golden Jubilee of the Inspector
Portrayed By:
Hannah Spearritt

Talk Page
Lily Taylor, played by English actress Hannah Spearritt, travelled with the Ninth Inspector as well as the Tenth Inspector in Series 3 and 4. A fan favourite, her character is constantly battling with Constable Reggie and Mary Sue in "Most Popular Associate" polls.
Introduced in the revived series' eponymous premiere, alongside her own supporting cast consisting of her father, Jack, and her girlfriend, Minnie Smythe, Lily Taylor was 22-year-old lower-middle-class bookkeeper at a London dress shop before she met the mysterious Infinity Knight. Parting ways with the Inspector at the end of "Apocalypse", she returned to the programme twice: the Series 4 episodes "Turn Right" and the two-part "Return to Earth"/"Odyssey's Beginning"; and the 50th anniversary specials, "The Night of the Inspector" and "The Golden Jubilee of the Inspector".
Trivia
[
]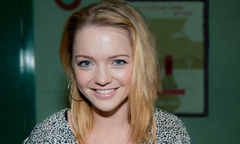 • After leaving as a series regular at the end of 2005, Spearritt went on to a high-profile role in another time-travelling show Primeval and a guest part in Agatha Christie's Marple television mystery series, both of which has been partly attributed to her performances in Inspector Spacetime.
• In 1997 Spearritt met and briefly dated actor Andrew-Lee Potts, the future associate Aidan Davies. In 2006, they were both cast in Primeval and began dating again, though the couple finally split in early 2013.