(Added content)

Line 19:
Line 19:
 

[[File:New FE-Line.jpg|thumb|left|FE-Line's controversial new look]]

 

[[File:New FE-Line.jpg|thumb|left|FE-Line's controversial new look]]

 

With the help of her new friends, FE-Line defends the [[Earth]]—mainly Tokyo—against over-sized terrestrial and giant extraterrestrial monsters, which she fights in her giant "Mega Neko" mode. Despite regularly saving the world, however, FE-Line must struggle to earn respect from ordinary people.

 

With the help of her new friends, FE-Line defends the [[Earth]]—mainly Tokyo—against over-sized terrestrial and giant extraterrestrial monsters, which she fights in her giant "Mega Neko" mode. Despite regularly saving the world, however, FE-Line must struggle to earn respect from ordinary people.

 
+
−

[[Category:Spin-offs]]

 
 
+

== Manga ==

 
+

A Manga séries known as FE-Lineの冒険:検査官の秘話仲間 or in English FE-Line Adventures: The Secret Story of an Inspector was published in 2011 and has been running along side the series. It heavily features more Inspector related stories such as "Blorgons in Tokyo" and "Sargent attacks again",

 
+
 
+

A cameo from the inspector was featured in the 5th volume " A twist of time. FE-Line Go" this inspector doesn't look like any of the previous inspectors and has been referred to as the Japanese Inspector.[[Category:Spin-offs]]

 

[[Category:TV Shows]]

 

[[Category:TV Shows]]
---
Revision as of 15:43, 2 August 2020
FE-Line (TV show)

title card
Format:
Science Fiction
Created by:
Motoo Fujimoto
Country of Origin:
Japan
Starring:
Akiko Yajima (voice)
Original channel:
Giapan Television Network
Original language(s):
Japanese
No. of series:
4
No. of episodes:
42
Original run:
2009-current
Talk Page
For the Inspector's Associate, see FE-Line.
The children's FE-Line TV series is produced by the Giapan Television Network Corporation and has been running for the past several years. FE-Line is voiced by seiyū actress Akiko Yajima.

FE-Line, having spent an unknown number years as a stray, is taken in by the kindly Professor Yokoyama.  He and his robot-obsessed nephew, Kenjin, a.k.a. "Kenny" in the English-language dub, repair and upgrade her to a new model, rendered in a combination of live-action special effects and traditional cel anime. Her Inspector-related memory circuits, however, have apparently been damaged beyond restoration, which may explain why the series never crosses over with, or even alludes to, its parent program.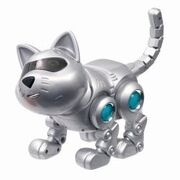 With the help of her new friends, FE-Line defends the Earth—mainly Tokyo—against over-sized terrestrial and giant extraterrestrial monsters, which she fights in her giant "Mega Neko" mode. Despite regularly saving the world, however, FE-Line must struggle to earn respect from ordinary people.
Manga
A Manga séries known as FE-Lineの冒険:検査官の秘話仲間 or in English FE-Line Adventures: The Secret Story of an Inspector was published in 2011 and has been running along side the series. It heavily features more Inspector related stories such as "Blorgons in Tokyo" and "Sargent attacks again",
A cameo from the inspector was featured in the 5th volume " A twist of time. FE-Line Go" this inspector doesn't look like any of the previous inspectors and has been referred to as the Japanese Inspector.
Community content is available under
CC-BY-SA
unless otherwise noted.