FE-Line


Vital statistics
Planet of Origin:
Earth
Original era:
21st Century
Species
Robot
Gender
Female
First Appearance:
The Blorgon Incursion of Midgar
Last Appearance:
The Embarrassing 15th Anniversary Reunion
Portrayed By:
Lynn Farleigh (voice) et al.

Talk Page
For the Japanese television programme, see FE-Line (TV show).
FE-Line was a robot associate of the First and Second Inspectors, but she also encountered the Fourth and Tenth Inspectors as well. Her name is pronounced /ˈaɪən-laɪn/ IPA.
Biography
[
]
FE-Line originated from the end of the 21st century, when she was built as a nice replacement pet for people who wanted to have cats but didn't for numerous reasons. One day, her factory was destroyed by Blorgons, but they spared her because they found her even more pathetic than them. FE-Line began to grow a hatred against Blorgons and promised to herself to beat those stupid cyborgs. On her travel to fight Blorgons, she met the First Inspector. They soon became friends and together destroyed the Blorgons when they attempted to invade Midgar. The Inspector proposed that FE-Line join him in his travels, and she happily entered the BOOTH.
FE-Line kept travelling with the Second Inspector until "The Crime Sports" when the Infinity Knights recalled the Inspector. As Infinity Knights were not supposed to have pets, FE-Line was taken from the Inspector and forced to live on Kayaclasch as a punishment.
She rejoined Inspector later in "The Lethal Murderer". Unfortunately, she left him after only three seasons to find Mary Sue Brown on Earth and help her save the planet.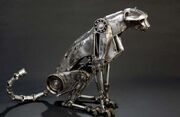 Many years later, the Tenth Inspector visited Mary Sue and FE-Line, and they said goodbye properly.
Recently she has had a lot of adventures in Japan with Professor Yokoyama and his robot-obsessed nephew, Kenjin.
Fan Reaction
[
]
Fe-Line is one of the favourite associates of the Inspector. Ironically, she was not even supposed to last more than one serial, but the reaction was so big that the writing team changed the ending of the serial and their season arc to make her an associate. She got two spin-offs: the short-lived FE-Line and Friends and the recent FE-Line.
However, even if she was present for nearly five seasons with the Inspector, she often stayed in the BOOTH most of the time, appearing only at the beginning and at the ending of serials.