Anthony Bonham Pease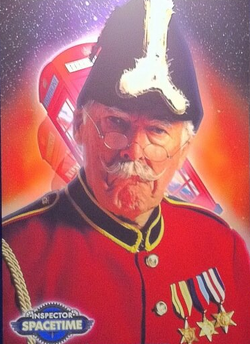 Talk Page


Anthony Bonham Pease (formerly "Sir Anthony") is the nonagenarian creator of the Inspector Spacetime programme for the British TeleVision company.
Biography
[
]
Son of an East End grocer, Pease found work as an unsolicited script reader for BTV's Dramatic Television and Puppetry Department after being sent down from Cambridge for reasons that are still hazy.
In 1960 Pease was developing a thriller serial for BTV tentatively entitled Constabulary Doctor, with Leslie French attached to star, but when he heard about a similar project at the Associated British Corporation by a rival producer, he hastily retooled the concept into a science fiction adventure, which, after many false starts, finally aired in 1962.
The recent circumstances under which his knighthood was revoked remain obscure, but rumours suggest they revolve around Cockney rhyming slang, how he was once addressed, and an unannounced visit to the Inspector Spacetime set during the filming of its 50th anniversary episode by Her Majesty the Queen (who has long disliked the programme).
Trivia
[
]